Updated 2019
For all the joys of living in Mexico, the challenge of feeding yourself in a healthy style is under-reported and grossly understated.
Mexico boasts world-class regional cuisine that gets all the press. Dining out is constantly hailed in travel guides as some of the best in the world. Dining out is usually is less expensive in Mexico. Even modest restuarants can have exceptional food. Certain areas, like Oaxaca and Puebla, are particularly well-known for their regional cuisines.
While all this eating out is great for couples and tourists (and tourist couples!), dining out is more problematic if you're a single person here.
For one thing, unlike the U.S., where restaurants usually have a bar for the solo diner who wants to eat companionably and inconspicuously, Mexican restaurants usually only have tables.
Enthusism for cooking can understandibly wane over the year. My female friends who cooked for picky children for years never fully recovered from it.
As a single person, cooking for often meant wasted produce, soggy left-overs and too much money spent on often equally inedible, unhealthy meals out. I almost starved to death my first six months here. I can just imagine what dieters restricting their dairy, gluten or meat intake go through. Every now and then, I read a tetchy blog by some poor vegan who would otherwise love everything about the Mexico and is returning home defeated.
The thing to know right away about living in Mexico is that larger commercial grocery stores are more expensive but worth it. Locate the nearest one immediately.
Looking at expat blogs and forums, many expats appear to eat out most meals. I say with complete conviction that a healthy diet is be impossible if you do that. Impossible. Mexicans will tell you the same thing.
As soon as you arrive to Mexico, be on the look out for signs in the windows of restaurants saying they deliver and grab their delivery menus right then and there. The meal, the tip and the delivery will probably cost less than $15. Just like at home, this is a particularly good option for ethnic food. They even deliver smoothies in Mexico. Even those places that don't post that they deliver will always be willing to prepare a meal to go. I have taken in my own plate into restuarants to fill rather than cramming the whole dinner into one of those syrofoam cartons. The care they put into wrapping it up for you is very endearing.
A good salad is harder to find. Vegetables varieties are far more limited. Most street food has a starch, bread or a tortilla, stuffed with a meat, lettuce, beans, tomato and some type of salsa. The variations from tacos offered on the streets are:
Gorditas - called "fat" because they are deep-fried

Pambazos - also a hungry-man sandwich, it includes potatoes in the filling

Huaraches - may include meat or an egg

Tortas - a white roll with filling

Quesadillas - tortilla with filling
You, and your American palate likely can only live on this kind of thing for a few weeks. Then panic will set in. Running through the take-out and delivery options will finally take you back to cooking more of your own meals. Many of the recipes I brought from home did not prepare the same due to all the variables.
No matter how long you live in another country, you will always want your food. A Vietnamese friend who has lived in the U.S. since he was 13 still eats the entire fish, to the horror everyone around him. Some of my expat friends have lived in Mexico for 15 years or more and their tastes are only mildly different from the day they arrived.
Here are the challenges.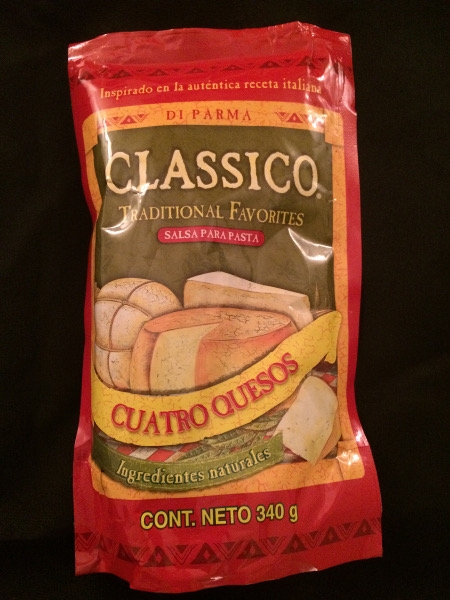 You will find more sauces in bags rather than jars.
1) Staple ingredients such as butter, beef, milk, sour cream and sugar taste different.
2) You have to translate the recipe from the back of the box from Spanish to English.
3) You sometimes have to convert measurements from the metric system in a recipe.
4) Crucial ingredients to your American recipes may not be available locally. For example, here, they don't really have what we'd call a green onion. They have something that looks like a mutant green onion, it's huge, but it has a much stronger flavor than ours.
5) It's more challenging to read ingredient labels. For example, when I want cranberry juice, I don't want it made from concentrate. That means reading labels in Spanish.
6) You will not have the variety of lettuces and greens for salads you are accustomed to in the U.S. In coastal areas, leafy produce doesn't last near as long. The variety of fruits is vast but many of the ones new to you won't feature into any cooking (and I often have no idea how to eat them, even after people explain it to me).
Once you combine the normal challenges of cooking for one person with these challenges of being in a foreign country, you will find the only recipe you have left is the one for disaster, financially and physically as your diet completely falls apart.
Produce
Mexico's open air mercados can be overwhelming in terms of humanity and unfamiliar smells. You have to take more caution in soaking produce from a mercado in an anti-bacterial for twenty minutes before consuming it. I find that produce from mercados does not last as long.
This varies by region, as I have heard expats in other areas say they buy all their produce in mercados and they have a big variety of fresh organic fruits and vegetables. I live in a city with a large expat population. Produce is still limited.
You'll want to visit your local open air mercado a few times to get a sense of it. Just don't assume, like I did, that you'll be strolling a clean mercado full of lovely produce every Saturday for your groceries. Open air mercados are fun places to go when they aren't busy; a great place to pick up small quantities of authentic Mexican spices, sweets and fresh juices. Don't count on them for all your major grocery shopping. The meat from a mercado is fresh alright, maybe a little too fresh.
I'm not proud of this, but I often forget or am too rushed to soak produce from higher end grocery stores in the bacterial everyone keeps at hand. My business associate, in an uncharacteristically indiscreet moment admitted the same. I've been here four years now and I haven't been sick yet, so if you forget it's not necessarily the kiss of death people would have you to believe.
Beef will taste different. Cattle in Mexico live a better life than in our country - they roam free. They are grass rather than grain fed. All that exercise and cheaper diet makes for tougher beef with a different flavor. Chicken and pork in Mexico are excellent. Chicken may be yellow in color in because of a flower they are fed (marigolds).
Beans and corn tortillas are the center of a typical Mexican worker's diet and why those ingredients are price-fixed by the Mexican government. Together they make a complete protein. Go ahead and get on that band wagon.
Protein powder is available in many major stores. Protein powder and eggs can supplement your need for protein if you're off meat. According to Men's Health, the best method is to best spread in small amounts at every meal. Whey is the most common powder. If you are intolerant to whey, your only other choice will likely be egg-white powder.
Smoothies make good meal replacements. You can hide a handful of spinach, oatmeal, chia seeds and a host of healthy ingredients in a smoothie. For the same reason, soups are big. Tofu is usually available in Mexico too. Just like at home, smoothies are a great way to use produce past its prime.
Mexicans are more than happy to share recipes. Again you have the issue of language, differences in palatte and the metric system bogging you down. Online cooking videos are very useful since you can see the preparation even if it's explained in Spanish.
Translating recipes is not just a matter of looking up words. One of my favorite dishes calls for "secreto de cerdo," which your dictionary will tell you is a "pig secret." Try not to think about it.
You can get a big leg up for practicing your meal planning for Mexico up by checking out my Pinterest board, "Recipes that Translate," where I have pinned recipes tested in my Mexican kitchen, taste like they do at home and don't feed 10. If it seems there aren't that many recipes, perhaps it's because I bat maybe one in three - It's that difficult. In a few months, I will be publishing a cookbook. Register if you want to be notified. I hope it will help you stay healthy and happy when you come here for a long visit in Mexico, or once you decide to live here.
About the author, Kerry Baker
Hi, I'm a partner with Ventanas Mexico which provides insight and resources to singles considering expat life in Mexico, including the newly-released "If Only I Had a Place," a guide to renting written for the aspiring expat.
I am also author of the "Interactive Guide to Learning Spanish Free Online," a curation of the best Spanish language tools on the web. Don't pay hundreds of dollars just because they're on the first page of Google. Find the best free tools, organized into lesson plans at every level in the Guide.