Cooking in Mexico as a Part-Time Resident: The Good News and the Bad News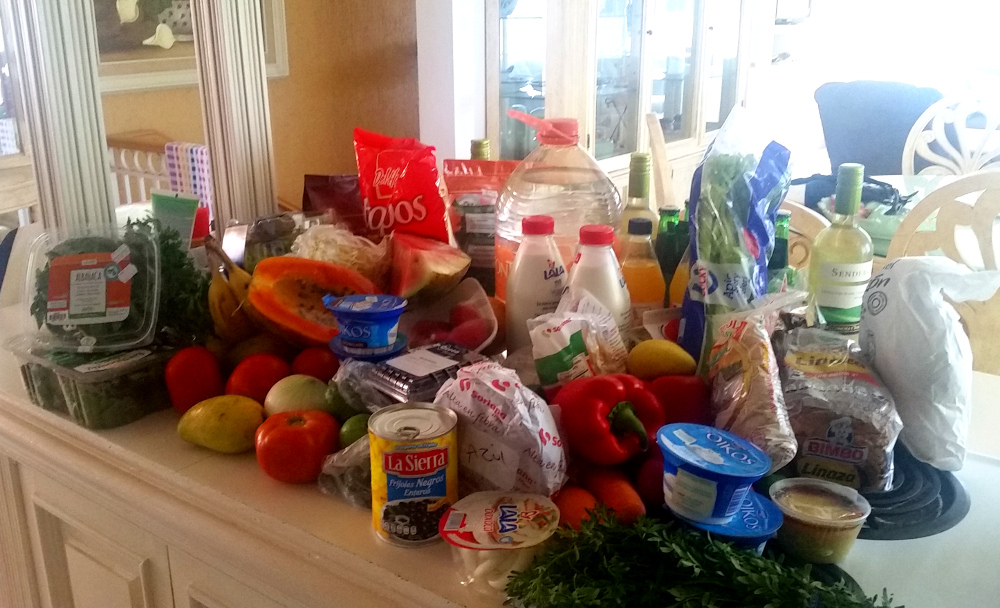 The good news: $93 dollars worth of groceries in Mexico
El Libro de los Americanos Desconocidos (Spanish edition) (The Book of Unknown Americans) tells about the daily lives of of fictional Latin American families that end up in Delaware, an unexpected haven of low taxes and available work, in the late 50's. Narrators come from Columbia, Puerto Rico, Mexico, Guatemala, Venezuela and Peru.
Most of the families in this gentle novel are neighbors in the same run-down apartment complex. It's a perfect book for a Spanish student, full of daily dialogue between family members doing things like preparing oatmeal for the first time, or seeing their first ice storm. In one chapter, the mother, Alma, laments not being able to afford the imported ingredients necessary to make sopa tarasca y huachinango or corundas con churipo.
Hers was a feeling I know well. Ingredients for many of my favorite American dishes are often unavailable in Mexico. To default to buying expensive imported ones feels to me like an admission of defeat. The challenge of preparing home-cooked healthy meals when I first arrived to Mexico was an unexpected one. I've studied cooking for years was caught completely flat-footed. No one mentioned it in books or articles.
As a part-time expat, my rental kitchens are equipped with rudimentary kitchen supplies; no woks, food processors, or rice cookers. I'm grateful for even one good knife (certain items I've learned to pack). Several apartments I've rented have not had ovens (which turned out to be far less of an issue than you'd expect). Even when I watch Mexican cooking videos, Mexican cooks use tools I don't have; such as mortar and pestles. Full time expats over time equip their kitchens. Being a part-time resident in temporary quarters compounds the challenges of availability and the same ingredients can taste different in each country.
The good news is that cooking in Mexico, once you get the hang of it, is far less stressful than cooking at home. Fewer choices and tools actually improved my cooking instincts. Patterns emerged that I never noticed when I was cooking at home and I always chasing the next gastronomic bright shiny object. So many parts make me miss how parts could work together.
Several years into this journal of culinary discovery, I reached out to a Mexican food blogger, Fabiola Rodriguez Licona, who writes the blog My Heart of Mexico on line. We began an intense study of which popular American dishes would "translate," and which would not. I also began cautious forays into Mexican recipes she presented (leaving out and replacing the pig's feet this time.)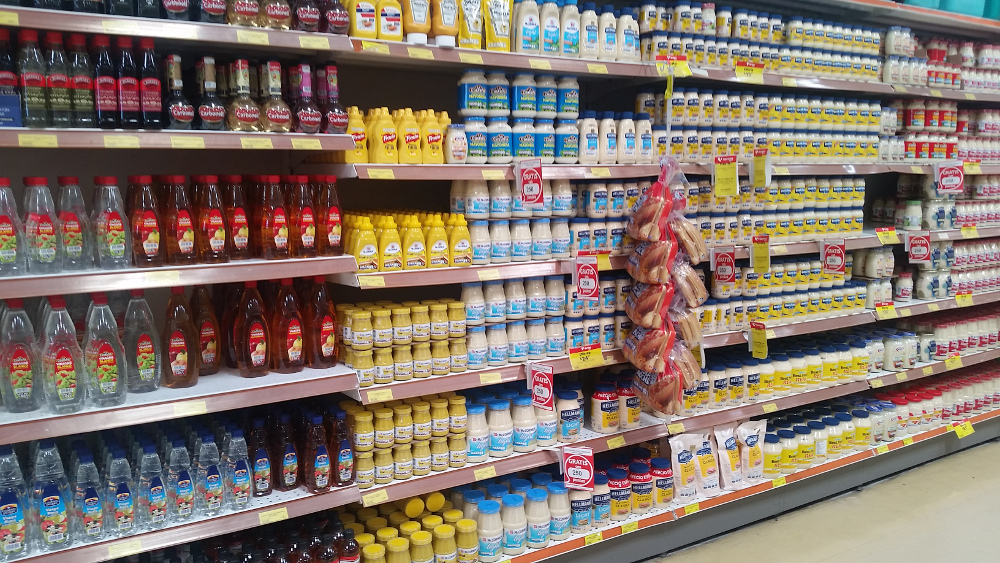 Ever since my married days, I have carefully created weekly meal plans - basically one beef dish, two chicken, pasta, three vegetarian. I try to work beans into a few, build in a few fruit salads - that kind of thing. I knew that I had "arrived" to my cooking goal in Mexico when I consistently walked out of a large Mexican supermarket (not Walmart or Sam's Club) with every single ingredient that my list and recipes called for, drawn from researching and re-working thousands of recipes (not a single one from the internet).
The result is "Recipes That Translate," a cookbook that Fabiola and I will release in a few months. Our bank of recipes serves me no matter where I am. I cook from the same library of recipes when I am in Denver, Colorado. I prefer them actually. I have moved to the place of wanting to perfect the simple, to creating the sublime from ingredients I can always find in the store or cupboard.
I now recognize the endless potential for variety within a subset of ingredients and tools. Talking with Mexican cooks, you begin to recognize that variety in Mexican home cooking derives itself from a variety of ways to prepare the mainstays, like enchiladas.
Let me be clear: Recipes that Translate Is not a book on Mexican cooking nor a compilation of Mexican recipes, although there are a number of traditional recipes in it. It is a book for a person or couple living or staying in Mexico long-term who love Mexican cuisine (as I do) but still wants "home food," like Alma just wanted to make her corundas con churipo.
Recipes That Translate will feature the healthiest of the recipes from an extensive inventory that have been tested various times in both countries under all kinds of conditions. The "Recipes that Translate" Pinterest board will feature recipes not in the cookbook, mine as well as ones I discover, that follow the criteria of being possible to prepare in both countries with the same outcome, but maybe are not as healthy represented as a stand-alone dish.
For example, one of the recipes that will be included on the Pinterest page but not in the Recipes That Translate cookbook is Chicken with Herbs de Provence. One seasoning that I'm crazy about and can find in both Mexico and the U.S. both is French herbs de Provence. What makes the herb mixture intriguing is its barely detectable flavor of lavender. This is a recipe I can make in minutes no matter where I am, and serve with a big salad or vegetable (to make me feel a little better about its butter content).
Chicken with Herbs Provence
2 skinless chicken breasts (in the U.S. you will probably need to pound them to ¼ inch thickness yourself, between two sheets of heavy-duty plastic wrap. In Mexico, you can buy chicken milanese from the butcher, already pounded)
1 ½ tablespoon olive oil.
¼ teaspoon salt
¼ teaspoon coarse pepper
1 clove garlic, minced
½ cup low-sodium broth
1 teaspoon dried herbes de Provence
2 tablespoons butter
1 teaspoon fresh lime juice
Heat oil in medium non-stick skillet over medium heat. Apply salt and pepper to chicken. Add chicken to skillet and cook until lightly browned. Remove from pan and keep warm under foil.

Heat butter in the pan and add garlic. Cook 1 minute, stir to insure garlic does not brown. Add broth and herbes de Provence. Bring to a boil and scrape browned bits from pan until sauce has thickened, a minute or two.

Add lime juice and stir sauce to desired thickness.

Return chicken to pan and coat with sauce just long enough to re-heat (less than a minute). Spoon remaining sauce over cutlets and serve.
Being able to cook like a Mexican, conquering and exploiting simple ingredients for their maximum flavor, is an art. Mexico offers all you need to create the healthiest, freshest diet you've ever had, including many of your favorite dishes from home. Once you learn the tricks and patterns, you likely will never go back chasing to bright and shiny objects again.
Related Links:
A Ted Talk (in Spanish, but you can put subtitles on in English, on how home cooking can change the world by Peruvian chef Gastón Acurio.
How to make the perfect tortilla. - Ventanas Mexico
Decrease your grocery bill by half…move to Mexico - Ventanas Mexico
Most Recent: Mexico's summer heat can bite. Especially if you pay the electric bills.
About the author:
Kerry Baker's most recent book is The Mexico Solution: Saving your money, sanity and quality of life though part-time life in Mexico. Previous books are If Only I Had a Place on how to rent successfully in Mexico and the Interactive Guide to Learning Spanish Free Online, a curation of the best free language tools on the web, curated by skill being developed and level.