Involuntarily-Retired? How Mexico Might Fit In
Updated 2019
What I Have Learned About Retiring by Living Part-Time in a Cheaper Country for Four Years
It was 2014. Pot had just been legalized in Colorado. Same-sex marriage had become legal in several states. and the Ebola virus hit American shores in New York. None of those things seem that long ago, do they? How much can happen in four short years.
Since moving to Mexico in August 2014, I've written a lot of blogs about the American and Mexican health care system, learning Spanish, building a social life in another culture and the more curious aspects of expat life in Mexico. Moreover, I wanted to convey to readers that they don't have to dive into the deep-end of full-time life in Mexico to achieve many of its financial and emotional benefits.
There was nothing unusual about my circumstances in 2014 when I first came to Mexico. Like many of us, I had the misfortune to lose my job in the Great Recession. After five years of looking, I got it through my thick, stubborn skull that I wasn't going to get my career back post 50. A whopping 49% of retirees left the work force earlier than planned, according to Mark Miller in an excellent article in Reuters on how to adjust your plan if you've been involuntarily retired.
In addition, cities have become considerably more expensive. During that period was the prevailing worry that I would not be able to afford my beloved Denver, Colorado, a city I'd moved to only five years before. I couldn't believe, after five years of establishing friendships and other emotional bonds, I'd again be ripped from a city to start all over with strangers in a less-expensive one.
If you have been forced into early retirement, you may be thinking of severing your ties and moving to a smaller, cheaper town. After all, it's not a bad plan and has worked for plenty of people. But do you really want to give up your city and the relationships you've worked so hard to establish over the years? I didn't. Thus began the Great Experiment.
Contrary to the mindset that when I moved to Mexico or a cheaper country, I would be leaving my life and friends behind, what I've found is that living part-time in a cheaper country would enables me to keep them: The money that I save living in Mexico part of the year has subsidized the higher cost of living in Denver the rest of the time. It's just math. No matter where you go to cut expenses, you save money. I just decided to do it in Mexico.
But it's not just about the money I've stretched. I promise that if you decide to move to another country rather than a just cheaper neighborhood, you will grow more as person. Adapting to another culture tests how much your beliefs have calcified since you left college to go into the "real" world (you will be surprised). You will see yourself as others see you in a way you can't when you speak the same language.
You may be pleasantly surprised. I have often been appalled. The graciousness of the Mexican people was like a a mirror and I didn't always like what I saw. When have you ever grown without a degree of discomfort? Living in another country makes you just uncomfortable enough.
Now maybe you're done growing. Maybe you are who you are. I hope not because if you don't grow and change (hopefully for the better), you disappear.
Another thing you learn with a two-country lifestyle, especially if your new system includes a Latin American country, is how to let go.
In the Buddhist religion, clinging and grasping are at the root of all of our suffering. F.B. Meyers wasn't a Buddhist but rather a Baptist pastor and summed it up like this:
As long as the bird lingers by the nest, it will not know the luxury of flight. As long as the trembling boy holds to the bank, or toes the bottom, he will not learn the ecstasy of battling with the ocean wave."
It's not always easy to let go. I have to confess that it's difficult to leave Mexico, and in turn it's difficult to leave the U.S.
Each pending departure makes you look at the things and people you love in a whole new way. Your social calendar jams up in the last month as you and your friends try to spend extra together.
You might see them more in the weeks before you leave than you did in six months before you adopted this lifestyle. We all want to spend more time with our friends. You will ask yourself, "Why can't it always be like this!"
The weeks before your departure is when the guy (or girl) you've been working-out next to for months at the gym decides it's time to start a conversation. It's when the band you've always wanted to see finally comes to town (ironically for me, it was Maná, a Mexican band that came to Denver).
Of course, moving to another country, even part-time, is for the select few. According to H.P. Lovecraft, the oldest and strongest emotion of mankind is fear, and the oldest and strongest fear is fear of the unknown.
The only solution to any kind of fear is knowledge. If the idea of a two-country life does intrigue you, as you do the research you can be comforted by the fact that at least a million American expats (and about 500,000 Canadians) live in Mexico alone. Most of them are probably over 50. That doesn't include all the part-timers and snowbirds.
Their old life seems just as unreal to them as expat life may seem to you now.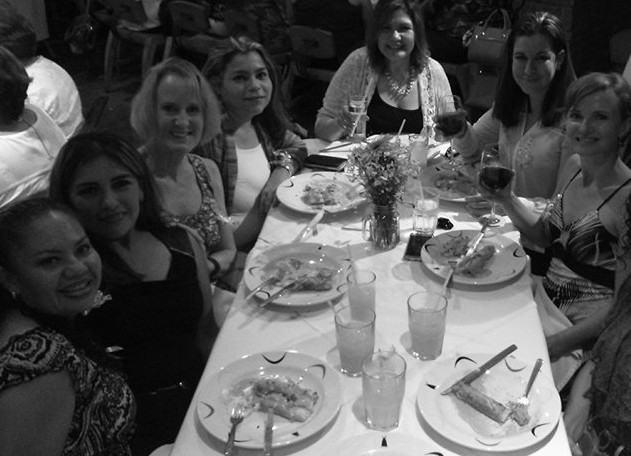 This blog has never been about abandoning your current life completely though. Not that full-time expat life isn't something to consider if you're really fed up.
In the meantime, my personal experience is that you can build two equally satisfying and far less routine lives for less money than it takes to have one. I I live on between $25,000-$30,000 a year, splitting my time between my apartment in the nicest neighborhood in Denver and the various places on the ocean I rent when I'm in Mexico.
The information to get your feet wet is all here in these blogs. Whether or not you ever buy a book or a product, there is ample advice to get you started, written by someone who's doing it. Aside from the more introspective blogs, here you will find out about
...along with some fun stuff like music, ridiculous language exchanges (including Canadian, who sometimes seem to outnumber Mexicans in Mexico) and cultural insights.
You will see that far from what you from in sensationalist sources, Mexico is very safe, especially for expats.
Thanks for your interest in my journey, I hope it inspires yours.
Related Link: The retirement crisis for Baby Boomers is real, if you are going to believe Market Place, The Economist, and Money Magazine.
Most recent: Websites administered in Spain offer some of the best free tools, especially their radio/video sites.
Next up: To celebrate the publication of my new book about renting in Mexico, I'm giving you a song playlist (a sure sign of my lack of marketing ability).
About the author:
Kerry Baker is the author of this blog on living in Mexico and two books, the Interactive Guide to Learning Spanish Free Online, and If Only I Had a Place, on the ins and outs of renting in Mexico.
The Interactive Guide gives you interactive links to all the terrific free learning sites and features that GoogleAds doesn't want you to know about. Create new lesson plans every day or use those in the book developed for every level. Study from your reader, laptop or tablet.