fun places to wander around
Lately I've been researching homeopathic ways to address issues with my skin with botanicals, before moving up to more expensive pharmaceutical treatments that would assuredly be prescribed by a dermatologist. Botanical stores are fun places to rummage around as you can buy exactly the amount you need.
Many Baby Boomers commiserate over youthful days greasing down with baby oil mixed with iodine as suntan lotion. I never did that. I am paying for the days when the local public pool in Southwest Oklahoma served as a daycare center for lucky parents willing to pay fifty cents a day.
Located in the center of City Park, my parents dropped me off every morning where I stayed from 11:00 a.m. until 4:00 p.m with hundreds of other kids. Keys to wire basket lockers were huge safety pins attached to our bathing suits. The place was filthy. Mayhem reigned.
The other pool was at Quartz Mountain Lake Lodge Even though the summer temperatures are frequently in the hundreds, the Lodge pumped the pool water from the bottom of the lake. Strangers to the area would launch out of pool like missiles, lips blue from hypothermic shock screeching "What the hell!"
I learned how to do a back flip from the side of that pool and a one-and-a-half from its two springboards, splattering face-forward on the water (the critical difference between doing a one-and-a-half and the much less-popular one-and-an-eighth dive). At least a thousand times I smacked the water, climbed out, and wove like a miniature drunk boxer back to the board. Luckier teenagers with access to boats spent their summer days water skiing on Lake Altus. Even irrigation ditches weren't off limits and sadly a few died in them.
It's pretty hard for a youngster to keep sun screen a priority when navigating summers like that. These days I look at the sun damage on my skin the same way I do my mountain-bike scars. Our marks are a cost of doing business. I'm sure that people without scars are great people, I'm just not sure if I'll ever completely trust them.
I'm reliving those hot sunny days in Mexico. The Mexican sun can be brutal. Maybe it's not just the sun but all salt in the air in coastal areas. In researching homeopathic and botanical treatments (treatments made from plant extracts) for sun spots, a few hours online revealed I'd need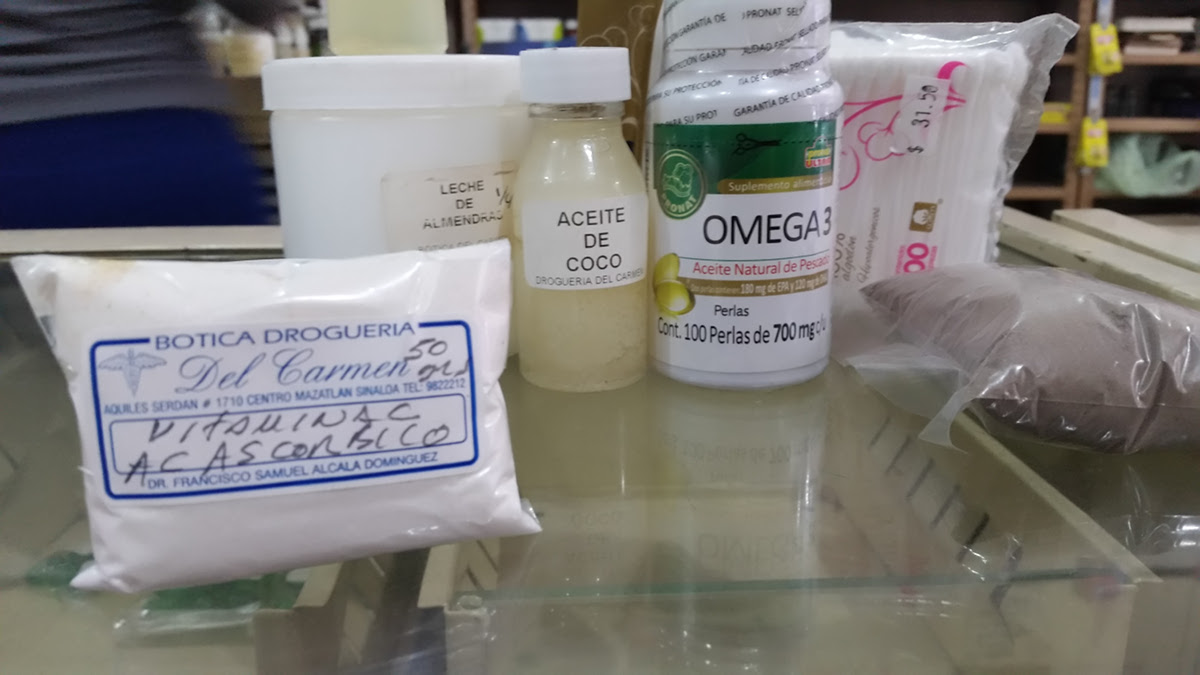 * apple cider vinegar + an eggplant
* vitamin C powder and Omega 3 oil to ingest
* tree tea essential oil mixed with a neutral oil to deliver the tree tea oil since it's not to be used straight-up
* an exfoliate - What they offered in Mexico looked like finely-sifted mud
* extra virgin coconut oil - as body lotion
* small glass jars and Q-tips
Unlike many things in Mexico, I found botanicals to cost about the same in Mexico as the U.S. First of all, they aren't very expensive to begin with. From online in the U.S. eight ounces of Vitamin C powder for example costs about $8 (U.S.), about the same as Mexico.
An ounce of the tree tree oil runs as little as $6 online, the extra virgin coconut oil about $10, the carrier lotion about $8. The 100 capsules of Omega 3 oil cost about $10 both in Mexico and online.
My purchases in Mexico totaled $788 pesos ($40 U.S). Ordering the same online with the taxes and shipping in the U.S would have been $55-60.
The one thing I would take back home is barr0, their exfoliation clays. Mud from certain areas of Mexico is known for certain chemical qualities that make it excellent for exfoliation or facial treatments. In this botanical store there were four types, ranging from black, pink, brown and white.
Buying botanicals in Mexico is a lot more fun though and feels more organic. Some ingredients you can buy in the quantity you want, taken from bulk from the people behind the counter who retrieve it and weigh it out for you.
They give you the ingredients in an unlabeled plastic bottles or baggies, without all the packaging. You feel like you're at the General Store in a western movie as they tally it up on a sheet of paper - that'll be 788 pesos, Little Missy.