The Best Netflix Series for Improving Your Spanish (That Aren't Boring)
The best thing about having been driven indoors by Mexico's hottest months last summer was the chance, indeed necessity, to binge on Spanish-language series on Netflix. For a language student, being able to watch a great movie while seeing elusive sentence structure is absolute nirvana, almost too good to be true.
Even if you don't want to learn Spanish, the quality of many series makes them well worth the watch. Some you can hear dubbed in English as well as subtitled.
I'd love to say my favorite Spanish-language series were from Mexico, I cannot. The best ones, in my opinion, are from Spain.
(Admittedly, Reina del Sur, the most successful telenovela in Telemundo's history, was a guilty pleasure my entire first year in Mexico even if the Spanish was to too fast to understand great swaths of it.)
I remember decades ago my Spanish boyfriend vehemently defending their truly terrible movies. For years, European countries resisted Hollywood movies as a threat to their culture. Spain still requires a percentage of all movies shown in theaters be Spanish productions. Of course a terrible movie is a terrible movie, as was reflected at the box office receipts.
In the last decade, Europe clearly has made peace with Hollywood. Rather than continue pouting, countries began to adopt Hollywood's most powerful story-telling techniques in their own productions. If you watched foreign movies 20 years ago, you know exactly what I mean.
Better story-telling and pace has given us a whole new world of stories, told from an another country's perspective, that the American audience can sorely use. Netflix seems to be on board, given the number of foreign series they have bought rights to already. The Golden Age of screen entertainment isn't American. It's global.
Spain "Going medieval" way before Pulp Fiction
Many critics have written that Spanish productions are among the best Europe has to offer.
Perhaps the better overall quality from Spain as compared to Latin and South America is because Spanish cinema is heavily subsidized by the Spanish government.
Only a small percentage of production costs are paid through ticket sales. Backing by the government also gives Spanish production companies the financial means to co-produce movies with Hollywood.
The Spanish government and production companies seem to have come to the realization that Spanish history has much to engage the modern viewer. That is to say enough sex, violence, and corruption for everyone.
Many of the series you see on Netflix appeared on Spanish television first. You might have to play with the website a bit, but I viewed several of them on RTVE.com several years ago. My favorites among those not yet on Netflix are Estoy Vivo, a supernatural crime series, and Isabel, a historical drama about Isabel of Castile and Ferdinand of Aragón (I'm sure we'll see this series on Netflix).
If you are learning another language and are using movies in your learning, you should know that studies have shown that the most effective method is to have both the audio and the subtitles in the language you are trying to learn, even if that means not catching every word, rather than having the sub-titles in English.
I find movies in European Spanish easier to understand than their Latin or South American counterparts. Even my Spanish friends have to use subtitles when listening to Mexican movies (Or they could just be saying that to make me feel better.)
If you are viewing the movie for studying purposes, I suggest opening your browser to Spanishdict.com while you stream it, to be able to pause and to look up a word quickly if it keeps coming up. If you also open Quizlet, a free flashcard site, and make a quick flashcard of the phrases or words you know you'll need some day.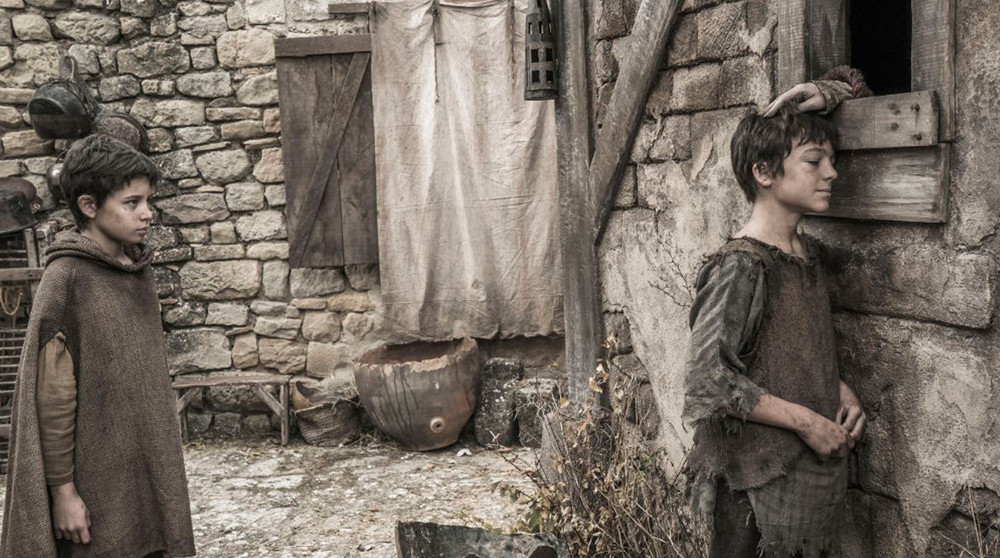 At great personal sacrifice, here are my picks of shows that achieve both the proper pace and can be followed easily by the student of Spanish.
La Catedral del Mar (Cathedral by the Sea), based on a book by the same name, deals with Spain in the 1300's, the Middle Ages, and Barcelona specifically. Like in Isabel, it's dripping with drama, gore, sex and finally, religion.
The brutality of life, particularly for women, is graphically conveyed, as is the corruption and demonical nature of the Catholic Church, juxtapositioned against the piety of the population (This period was the ramp up for the Spanish Inquisition). (English audio and subtitles available)
If you make trips to Europe and visit its great cathedrals, you will never look at them the same way after seeing this series, which is probably exactly what Spain wants from their investment. The "Game of Thrones effect" caused Iceland's tourism to jump from approximately 566,000 visitors in 2011 to over 1 million visitors in 2015.
Las Chicas del Cable (Cable Girls) - I admit that this series about five women working in Spain's first telephone company in the 20's is a glossy, caffeinated telenovela.
The drama (they are among Spain's first wave of feminists), wardrobing, sets and overall bodaciousness of the characters transcends the genre.
It's curious to note a trend that the music sound tracks are usually in English.
The sexy soundtrack on this series is available on Spotify. (English audio and subtitles available] Review

Casa del Papel (Money Heist) A favorite of all my Spanish friends, this heist-gone-wrong is narrated by a female protagonist and former assassin. In a scene reminiscent of "Heat", the team wears Salvador Dali masks to take over the Royal Mint, but not for money and therein lies the twist. The group's leader controls the team from the outside. The Money Heist is Netflix's most-watched non-English film ever. (English subtitles available)
Paquita Salas- For Spanish students, comedies are probably the most frustrating, the final frontier. Humor doesn't always translate across cultures. Paquita Salas is an exception. Seeing overweight Brays Efe (a dude) cast in as a struggling female talent scout in itself is funny enough. The series was a surprise hit in Spain. It's got a lot of heart and offers an enjoyable view into Spanish pop culture. (English subtitles) Review
Mar de Plastic ensemble cast
Mar de Plastico (Plastic Sea) - With so many excellent series these days, one key reason to invest the additional effort in a foreign movie is to learn about another culture.
In Plastic Sea, we are reminded that Spanish soldiers were also killed in Afganistan (Our hero is a vet with PTS), and that Spain has its own ugly form racism to deal with. If you believe the series, perhaps even more virulent (Spain has persecuted gypsies for centuries).
You also get to see the stark beauty of Andalucian countryside of southern Spain.
Thousands of Africans have flooded into Spain on their ways to points north. Xenophobia makes for many suspects in this series. The characters are well-developed and complex. Rodolfo Sanchez, a very popular Spanish actor, does a better job in other roles (especially Isabel) yet together, the ensemble creates a very worthwhile who-done-it. (English subtitles)
Apaches - This drama reminded me of a less edgy "Hell or High Water" and Ben Affleck's "The Town." Childhood friends/brothers from the barrio watch each other's back against mafiosa and con artists regardless of the consequences.
The series takes a few episodes to set up. Once it does you get plenty of satisfaction watching the main character evolves into an greatly-improved partner in crime. Alberto Ammann, the lead, might remind you of Edward Norton (English subtitles).
Crematorium - When this series came out in 2011 in Spain, it was heralded as a turning point, a production that Spain could be proud of before an international audience. The main character, an urban real estate developer in southern Spain seeks to realize his vision no matter who he has to partner with to do so. Like in Florida, corruption in developing Spain's southern coast was rampant. The production methods are a bit dated but it's a good story if you're ready to ditch the training wheels (Spanish audio and subtitles only).
If you like period dramas, you will find several Spanish ones on Netflix (I never seem to finish period dramas.) "Gran Hotel", "Velvet (two versions)", "Morocco in the Time of War" and "The Time in Between" are favorites.
Some list Chicas del Cable among the period dramas. It's not. It's a telenovela, complete with duplicious twins, love triangles and kidnapped babies, which he de confesar, I do finish. If you want a complete, hilarious primer on the ingredients of a telenovela, watch "Jane the Virgin," a parody of the genre. Jane the Virgin even has a little Spanish (the grandmother only speaks Spanish in the series).
I used to question if watching movies in Spanish really helped my Spanish (Part of my Catholic make-up dictates that if it's fun, I can't possibly be learning anything).
My revised opinion is that viewing the movies in Spanish does help if you periodically pause the stream and study some phrases and words (adding them into your flashcard sets) and have both the audio and subtitles in Spanish (you can always click the subtitles back into English if you need to.)
Shows and subtitles also help with hearing advanced grammar structure like past subjunctive mood. With a few glasses of wine however, show rather pointless as a study tool - you just go for the ride.
Winter will be here soon, a perfect time to settle in with foreign series and their demands. Even if you're not learning a second language, don't limit yourself to American story-telling, sets, and perspectives. Netflix certainly isn't, sending all the right signals about better and better curation in the future.
Related Links: Your evenings in from of the television need not change because you're in Mexico. In fact, you need never miss a show. Ventanas Mexico
One of the things you'll learn to do again in Mexico is hang out. Ventanas Mexico
Most Recent: Learn why gift gifting is more fun in Mexico; all because of an Indian slave.
Ventanas Mexico
About the author:
Kerry Baker is a partner with Ventanas Mexico and the author of two books. The first written was The Interactive Guide to Learning Spanish Free Online." This book of curated interactive links enables you to create your own varied lesson plans from the best free sites on the web. I use the book almost every day myself to stay motivated by using different tools all the time.
The second book is If Only I Had a Place, a guide to renting luxuriously in Mexico for less. More than how to rent (although it certainly covers that), this book is gives you the infrastructure for the most holistic and enriching of expat experiences.