Oaxaca: The Spiritual, Artistic Heart of Mexico
After seeing the incredible paintings of José Santos, I was certain that if the artist hadn't just been through the 2017 Chiapas earthquake, I never would have had the opportunity to talk to him.
The painter/ceramic artist undoubtedly was feeling a bit unmoored to respond to an outsider's petition for an Oaxaqueño to serve as a contact in Oaxaca in a book for people interested in renting long-term there.
Santos was fortunate. He suffered little damage to his own studio. Nonetheless, the subsequent disruption in the city and seeing heartbreaking damage to historical and artistic buildings in Oaxaca must have rattled him significantly.
His emails reflected someone grateful yet unnerved. He returned from 20 years in England in 2014. That would have been more than enough time to forget about Mexican earthquakes, and how many of their epicenters have been in the state of Oaxaca.
Oaxaca's reputation for art, cuisine, and architecture that most authentically represents Mexico can withstand even 8.2 earthquakes.
Oaxaca has created great art for centuries. With so many famous artists from Oaxaca, you can't but wonder about their muse, their city as seen through the eyes of one of its artists.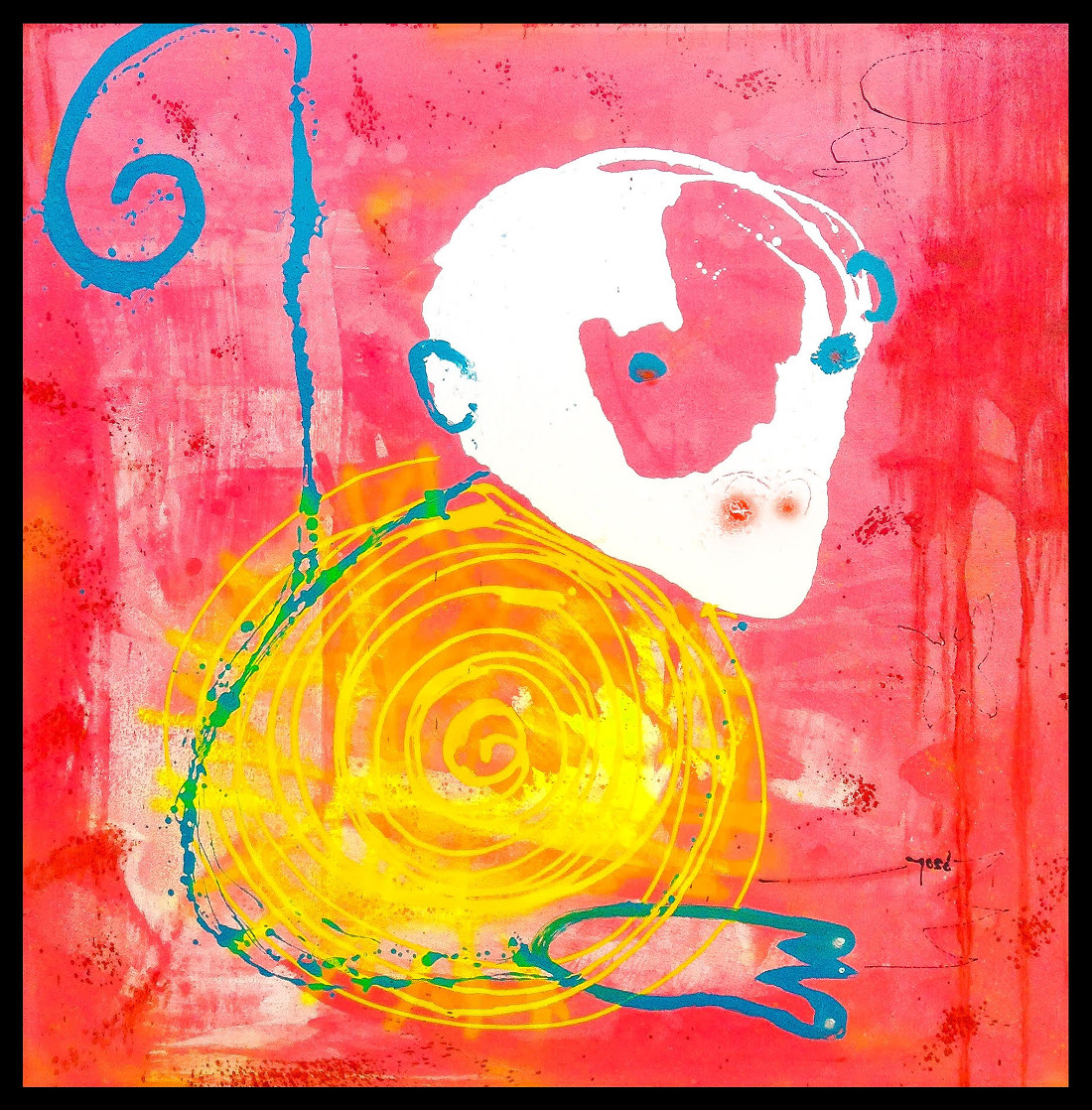 Many say that Oaxaca is the spiritual heart of Mexico. It's pre-Columbian, Indigenous and Spanish colonial all at once. Sitting at 5,000 feet, Oaxaca sits in a high valley dominated by Monte Alban, a temple complex and ceremonial city first settled by the Zapotecs around 600 BC.
Monte Alban in the Valley of Oaxaca was the first city founded in North America, reaching a population of 17,000 people when London was no more than some thatched huts. The Aztecs conquered the cultural center in the 15th century, followed by the Spanish conquest in 1521.
As much as they tried, the Spaniards never conquered Oaxaca's indigenous cultures. Sixteen dialects are spoken in the Valley of Oaxaca to this day. Half of its population does not speak Spanish.
Oaxaca's architecture is a source of inspiration for its large community of artists. Although Spanish in design, the sensibilities of the indigenous craftsmen who executed the city's churches and buildings shines through.
The city was laid out by the same Spanish architect as Mexico City and Veracruz. The local stone. pale-green or rose-tinted, from which many of its churches and buildings were constructed, also distinguishes Mexican architecture from Spanish antecedents.
The myths of Oaxaca represented in paintings and murals by Oaxaqueño artists favor the fantastic and allegorical; the bird that becomes a man, the iguana that transforms into a woman, and dream-like scenes. The works are awash in color and surrealism.
Several of Mexico's most famous artists were born in Oaxaca. Most left as young men to establish their fame and reputation in other countries. They returned even more in love with Oaxaca and Mexico.
José Santos followed their example, returning to Mexico after an extended sojourn in England to breathe in the colors, history, and legends that were like a second heartbeat within Rufino Tamayo, a renowned muralist who along with Diego Rivera, and Gabriel Orozco all of whom represented Mexico in its turbulent mid-twentieth century. Tamayo spent decades in New York City before returning to Oaxaca
Painter Francisco Toledo, another an Oaxaqueño, called a "Promethean figure" in the Mexican art world by The New York Times, split his time between Oaxaca and Paris for years. Still painting in at almost 80, running into Toledo on an Oaxacan street you might mistake him for a Mexican campesino, dressed in his splattered huipil and simple Mexican sandals.
The proceeds from Toledo's work continue to help fund Oaxacan libraries, a photography center and an environmental and cultural preservation group Pro-OAX. Tamayo spent over a decade in New York City and Toledo crossed back and forth from Oaxaca to Paris for many years.
Mexican contemporary painter Rodolfo Morales, another famous artist from the Valley of Oaxaca, has been regarded along with Francisco Toledo as among Mexico's greatest artists for over a decade.
Morales did critical restoration work on many buildings in Oaxaca though his Fundación Cultural Rodolfo Morales. Morales notably felt that the women of Oaxaca, the women who craft its cochineal-dyed woolen weavings, the intricate crochet and the distinctive unglazed black pottery of Oaxaca were the region's best of hope of retaining Oaxaca's authentic indigenous roots. Toledo and Morales were close friends until Morales' death in 2001.
It's remarkable that two of Mexico's most famous artists were contemporaries in the same Mexican city at the same time. together they helped build Oaxaca's reputation as a center of art (An art teacher as a younger man, Moreles never left Mexico like Toledo and Tamayo did. He didn't gain national exposure until he was over 50 years old.)
Many have voiced chagrin over the lack of deserved recognition Mexico gets in European artistic realms (including fashion). José Santos lamented not seeing more Mexican exhibits while living in London although he did see exhibits by Toledo, Tamayo and Orozco.
As a member of a younger generation of artists, Santos found upon his return that even 20 years later artists in Oaxaca remain as devoted as ever to the school of art practiced by their famous predecessors.
Not long before his return back to Mexico, Santos had the opportunity to see Mexican artist Gabriel Orozco's exhibition at the Tate in London, which he described it as a "truly contemporary experience, leading him to believe that he would encounter more contemporary art back home in Oaxaca, at least an introduction to modern trends and art movements.
"That didn't happen," he said. "The context, mythological figures, colors and art techniques remain the same as when I left. Yet I see a lot of engraving around too, work that exhibits traditional technique in a way that has a more revolutionary feel. Young artists' adherence to tradition in creating their art represents their defiance of technology,"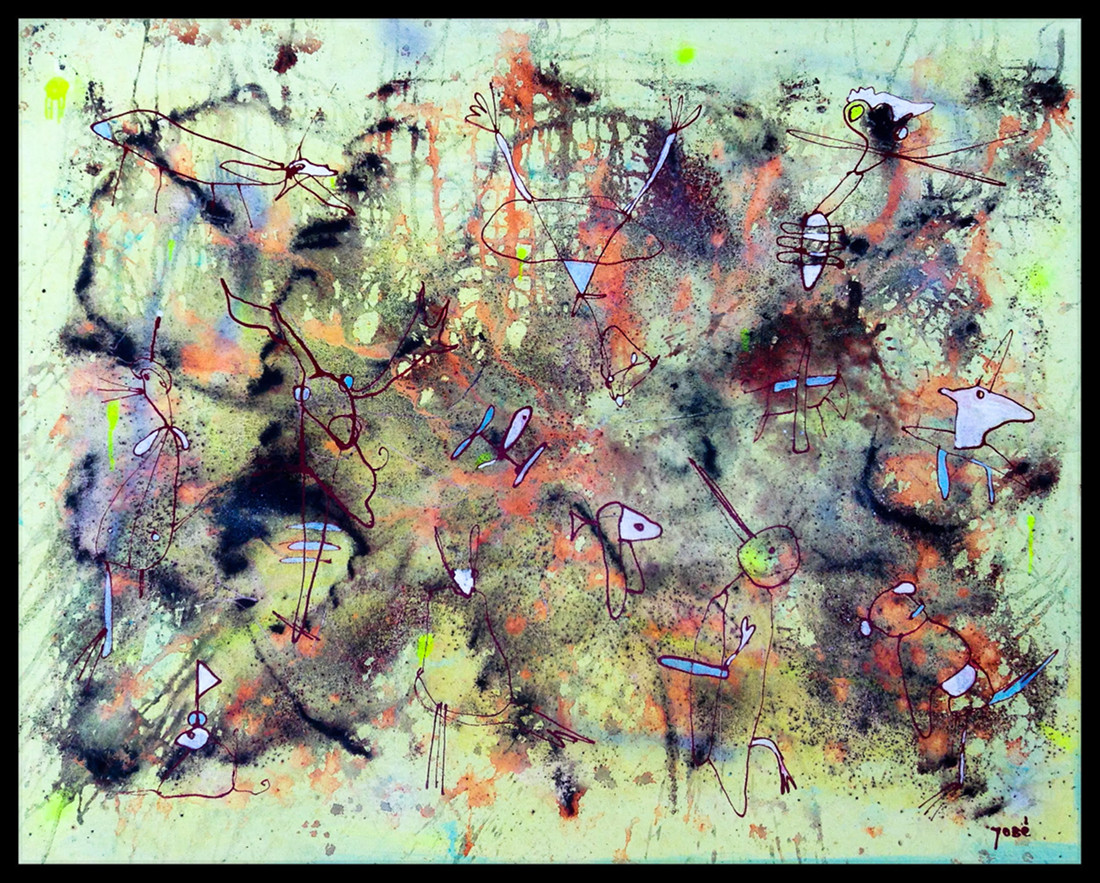 Contemporary piece by José Santos
Conceptual art is slowly trying peeping into some galleries in Oaxaca but there is still a long way for this city to become a fully achieve modern art status. Mexico City marched on to become an obvious hub of contemporary art and architecture.
Santos is happy to be back home producing new work, experimenting with new materials and large-scale work. When asked of his feelings about his art since returning to Oaxaca after 20 years abroad, his response suggested a person still a little inquieto, working to synthesize diverse experiences into art that projects his own unique vision and voice.
"I have lived most of my life in two [vastly different] cities. I can only project self-visions and experiences to rationalize my art. There is a mix of emotions running through my head when I'm in front of a canvas, ink or clay. I pray and say 'I hope you understand me...' mi dialogo,' which comes from both Mexico's rich visual colors the diversity of the streets of England."
Culinary Art in Oaxaca
Local gastronomy, as well as art and archeology, and music favor imagination of locals like Santos and tourists alike. So many different indigenous groups contribute to the richness Oaxaca famous cuisine, particularly its molés. Mexicans will tell you if you eat a molé too late in the day, it will give you strange dreams. Molés are as distinct and varied as their cooks.
Dianna Kennedy wrote a beautiful cookbook, The Essential Cuisines of Mexico. If you'd like to try your hand at Oaxaca culinary art, included in the book is this recipe by Señora Domatil Santiago de Morales, the author's mentor for Oaxacan food.
Carne Claveteada (Pot Roast Studded with Almonds and Bacon)
3 lbs brisket in one piece, trimmed of fat
1 ½ tablespoons slivered almonds
8 ounces bacon or ham cut into small pieces
3 large ancho chiles, seeds and veins removed
1 ½ tablespoons mild vinegar
¾ cups water
3 whole cloves
½ inch piece of cinnamon stick
4 peppercorns, crushed
6 sprigs of fresh thyme or ¼ teaspoon dried
¼ teaspoon oregano
3 garlic cloves, roughly chopped
3 tablespoons vegetable oil or lard
Salt to taste
1 ½ pounds red or new potatoes
Pre-heat oven to 325 F.
Pierce the meat all over with a knife point and insert the almonds and bacon. Set aside to prepare the sauce.Toast the chiles lightly; turning them often so they don't burn. Put the chilis into a bowl, cover with hot water, and leave them to soak for 10 minutes

Put the vinegar and water in a blender, add the spices, herbs, and garlic. Blend as smoothly as possible. Add the chiles and blend to smooth consistency.

Heat the lard or oil in a dutch oven. When it is very hot, sear the meat well all over. Remove the meat and set aside. Drain off the fat, leaving only 2 tablespoons in the pan.

Add the sauce to the pan and let it cook for about 5 minutes, stirring constantly. Salt to taste.

Return the meat to the pan and baste it with the sauce. Cover the casserole with a tightly fitting lit and cook the meat in the oven for about 2 hours.

Put the potatoes, unskinned, into a saucepan, cover with boiling water, and boil for 5 minutes. Drain the potatoes and set aside to cool. When the potatoes are cool enough to handle, peel them.

Remove the casserole from the oven, turn the meat over, and baste it well with the sauce. Scrape the sauces from the sides and bottom of the pan and add a little water if it has thickened too much.

Put the potatoes into the sauce around the meat, replace the lid, and let the meat cook until very tender but not falling apart - test after an hour and ten minutes

Slice the meat fairly thickly and place on a serving dish with the potatoes around it. Pour sauce over.
Related Links: What are you seeing when you see a Mexican Cathedral?
Most recent: Corruption still a big part of Mexicans' daily lives, as both victims and perpetrators.
About the Author:
Kerry Baker is the author of two books. The first is a curation of the best online sources for learning Spanish as an adult, organized into lesson plans.
"The Interactive Guide to Learning Spanish Free Online" keeps studying from becoming boring by offering hundreds of tools you can combine differently every day. Learning to really converse in Spanish takes time. Boredom is your greatest enemy.
The second book is "If Only I Had a Place," a guide to renting luxuriously in Mexico. Renting long-term, beyond a vacation stay in Mexico is different from the United States. Alot different. Use this book to set the stage to rent luxuriously for less year after year. Avoid the scams. Don't pay what tourists pay.